Clients interested in using analytical testing services offered by the LCBO Quality Assurance laboratory outside of the LCBO listing purposes must use the LCBO Request for Laboratory Analysis (LCB 2269) form and submit using the LCBO QA Independent Analysis Label 
Depending on your testing needs, you may select any of the standard Analytical Testing Packages available at this time, or any combination of Analytical Testing Services.  The form includes instructions for payment and shipment of samples.
The LCBO Quality Assurance Laboratory is committed to impartiality and confidentiality of all information provided by the client and generated by the laboratory for the client, including testing results. The results obtained from a private client analysis cannot be used for LCBO purposes. Contact the appropriate LCBO business unit if you are interested in submitting samples for LCBO listing purposes.

Canadian Samples Submission
When submitting samples for analytical testing, please ensure that the submission includes:
- Sample that meets the volume and container requirements. The minimum volume requirement for a standard analysis is 500 mL per sample, but a sample size of 750 mL is desirable where possible.
- Completed LCBO Request for Laboratory Analysis (LCB 2269) form, available above 
- Proof of payment, as described on the request form LCB 2269
Shipment with above items must be affixed with the LCBO QA Independent Analysis Label, in combination with any courier required shipping labels. 
In Person Submission Drop Off Procedure 
Products should be packaged in adequate packaging, e.g. carton case, sufficient to protect the sample integrity while avoiding excessive packaging. Each case must be properly labeled using the LCBO QA Independent Analysis Label to ensure proper routing of the samples to the LCBO Quality Assurance Laboratory.
External visitors are not able to deliver product samples directly to the QA Laboratory floor. Product being delivered by courier or in person will be accepted by our dockmaster partners PlusOne, Monday through Friday, between 9 AM and 3 PM.
Temporary Drop Off Procedure Until Late 2022 
Due to ongoing construction in the area, there are currently some temporary access restrictions in place; these restrictions are expected to be lifted mid to late 2022. 
During this transition time, we will be temporarily accepting deliveries through a drop-off point on New Street, on the east side of the building adjacent to the parking garage entrance (refer to map below).
Upon arrival, please call 416-881-4503 (phone number posted on the exterior door). A representative from our building delivery partners, PlusOne, will meet you outside and induct the sample for delivery to the LCBO Quality Assurance Laboratory.
Revised delivery instructions will be posted at a later date.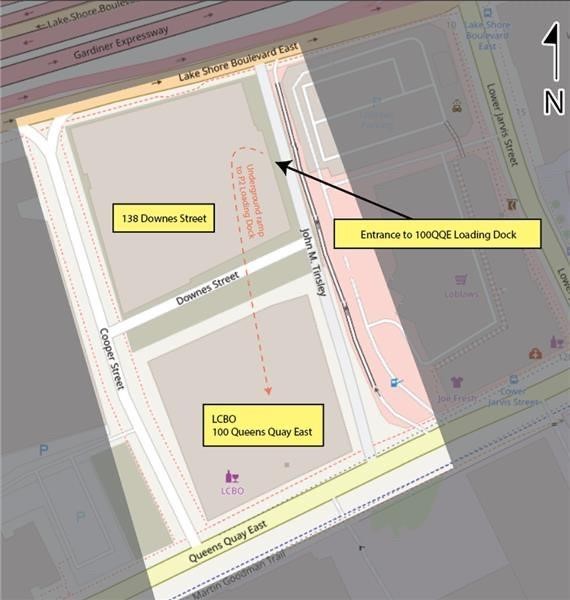 International Samples Submission
International shipments must include a completed Canada Customs Invoice (CI1form). To ensure timely processing of the customs clearance, it is important that the Invoice form is completed accurately and in full. Contact Quality Assurance at AskQA for additional support, including important shipping details.
For more information on pricing and current turnaround time, please contact us at AskQA.