In-Store Product Samplings
This is your chance to put liquid on lips in our stores. There is no better way to gain new customers than having them try your product. Our tasting tables are situated at the front of the store in most locations making it the first thing the customer sees and your chance to make a great first impression!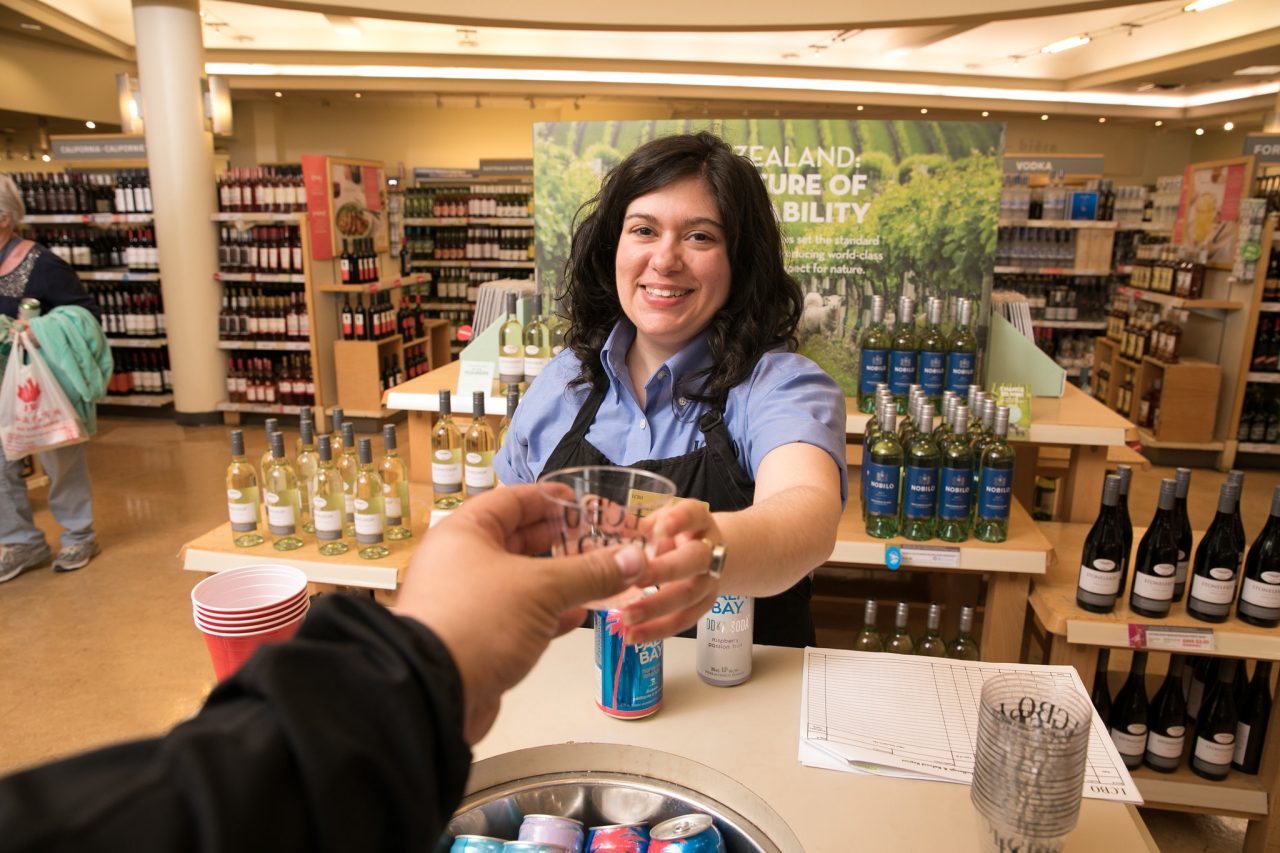 Active Store List (Please note availabile stores may change due to operational needs)
TASTING TYPES
Regular
Fee $75/tasting
This straightforward tasting type is just your product and the demonstrator. Food is not to be served during these tastings. A generic sign will be in place to support the tasting.
Fee $325/tasting
You can now select an LCBO Team Member to facilitate your in-store tasting! Our knowledgeable and Smart Serve-trained demonstrators are available in 380+ participating tasting bar stores. What you get when you choose us to be part of your team:
-    An experienced LCBO staff member who knows and understands the local shopper
-    Post-tasting sales result reporting
-    Access to some of the most knowledgeable product experts in the industry
Our team will be fully trained and prepared for your event. To help them get ready please complete and submit a brand story that will communicate your desired product tasting specifications to ensure consistency throughout your promotion. SKU-specific Brand Story Sheets will be available to all LCBO staff through an internal portal page. 
Fee $100/tasting
An enhanced tasting is where you get to pull out all the stops! Do you want to offer a more engaging experience for your customer?
Enhanced tasting experiences must include components such as an eye-catching tasting bar set up, enticing food match, and an external demonstrator (LCBO employees are not available for Enhanced Events).
Components must be approved by our Events Team.
Please submit your application via ITPS as normal and indicate on the notes page that you wish to apply for an Enhanced Tasting Event and that you have confirmation from Events that your brief is approved.
For convenience please use our submission form to apply for enhancements Events a minimum of 9 weeks prior to the start of the period.
To learn more about enhanced tasting events click here.
VINTAGES Tastings
Fee $75/tasting for a regular event, $100 for enhanced, $325 for LCBO Employee Led
Do you have a hot new product hitting the shelf through our VINTAGES program? Certain locations in the program are available for booking on the weekend of your product release. If you wish to apply, log on to the In-Store Tasting Program website, select VINTAGES as the type of tasting, and then key in the required info.
VINTAGES tastings take place only on the weekend (Friday evening, Saturday, and Sunday) of the VINTAGES product's scheduled release date, which must be specified on the application.
The participating stores will populate the store drop-down list when a VINTAGES tasting is specified in the application. For a list of participating stores, you may contact the In-store Tasting Program Administrator at instoretastings@lcbo.com.
Hiring External Demonstration Companies
All persons conducting Tastings must have Smart Serve certification. Information about Smart Serve is available at: http://www.smartserve.org/.
All persons conducting Tastings must complete the Access Forward module for customer service. https://accessforward.ca/front/customerService/
If food is served at the tasting a valid Food Handling Safety certificate will be required.
Demonstrator Availability By Store Class

APPLICATION SUBMISSION DEADLINE DATES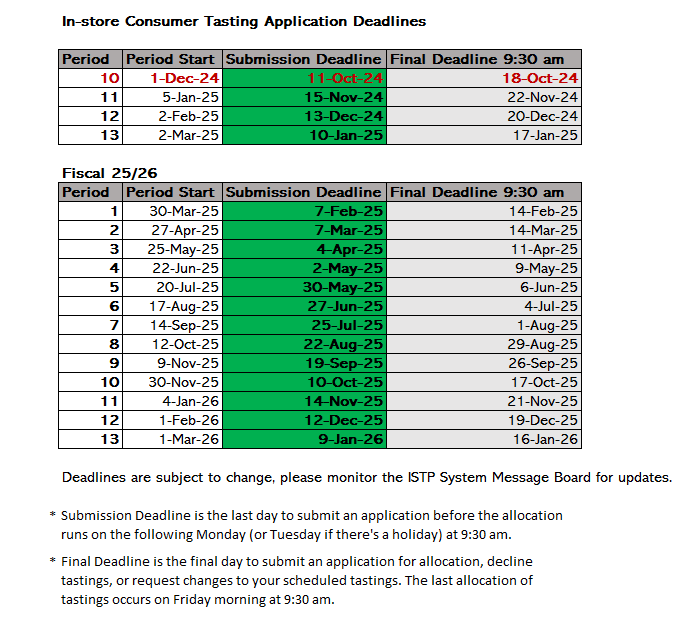 Applications are due 7 weeks prior to the start of the period in which the tasting will occur unless otherwise noted, after which allocation will occur and you will have one week to make changes where necessary. 
Sumbission Deadline
The submission deadline will fall at the end of the business day Fridays, unless otherwise stated. The first allocation occurs at 9:30 am the following Monday. Once you receive your allocated tastings you may decline and re-apply for tastings up until the morning of the final deadline.
Pick-Up Period
The period between the submission deadline and the final deadline is referred to as the pick-up period. You will have this time to pick-up any additional tastings or decline tastings you have been allocated that are unsuitable. We will allocate each morning up until the final deadline. Once the final deadline has passed you will be responsible for any bookings including the costs associated with the event unless otherwise stipulated. 
Final Deadline
This is the last day applications will be allocated the remaining spots. Allocations are completed by 9:30 am each morning. You will have until the end of the business day (5 pm) to decline any unsuitable bookings, after that no changes can be made and the agent will be responsible for any costs associated with the event.   
Do not submit new applications after 9:30 am Friday morning of the final deadline day. These applications will not be allocated.

Applications are finalized 6 weeks prior to the period and the agent is responsible for any costs associated with the booking unless otherwise stated. 
If you have any questions or require additional information, please contact the In-Store Tasting Administrator at (416) 864-6758 or instoretastings@lcbo.com.