Opportunities For 2023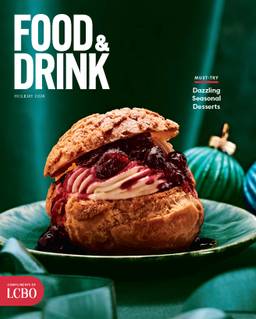 Food & Drink continues to be more relevant than ever. We deliver the engaging product and food content that customers want, letting them experience it when or where they want to.We create a friendly environment for trade partners to communicate with our audience about your products and brands.

Food & Drink continues to engage with and inspire our customers. They have more options for how to shop with us, whether browsing in store, or using ecommerce channels and picking up in their local LCBO. Customers can gain product knowledge through different channels or engage with our knowledgeable staff.
More than ever, our readers continue to let us know they still want their Food & Drink. Demand for over 530,000 print copies remains strong province-wide and customers picking up ecommerce and same-day pickup orders are excited when they can include a magazine with their order.
YOUR PRODUCTS. OUR READERS.
Traditional advertising. Content-forward advertorials.Integrated social and digital opportunities. Food & Drink offers a proven opportunity to present your products to LCBO customers when they're ready.
Run of Press Advertising
Showcase your brand and your product to an interested reader in our print and digital editions.
Advertorial, Custom & Integrated Content
We can help you present your products in a unique context, supported by engaging, quality content.
Social, Digital, Video, eCommerce
Work with Food & Drink to strategically support your LCBO in-store and digital promotional opportunities.
Opportunities for Trade Partners
We're working hard on upcoming issues right now.

Early Summer 2022 issue: Ad closing Mar 4; in stores May 4
In May we'll appreciate the coming Summer and make the most of what's unique in Ontario
Summer 2022 issue: Ad closing Apr 29; in stores June 29
As always, our late-June issue will tee up the perfect refreshments for summer fun
Autumn 2022 issue: Ad closing Jul 15; in stores Sept 14
September means Ontario, as we shine the spotlight on local makers and products.
Holiday 2022 issue: Ad closing Sept 9; in stores Nov 9
The big one. Our largest, most popular issue of the year, celebrating all things Holiday.
Spring 2023 issue: Ad closing Jan 3; in stores Mar 1
Celebrate hope & new beginnings with our Spring issue.
How can we help?
Contact our ad sales team, Beaches Media Services.
Kirby Miller
C: 416 723-3923
E: kirby@beachesmediaservices.com